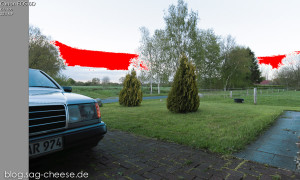 Bereits im ersten Teil meiner Artikel-Serie "Daniel goes Video" hatte ich über die Möglichkeit gesprochen, sich mit speziellen Picture-Styles Spielraum für die nachträgliche Bearbeitung am Rechner zu sichern. Im 2. Teil möchte ich nun für mich mal selber nachschauen, ob das alles so tatsächlich stimmt…
Daniel goes Video ist eine kleine Artikelreihe hier im Blog und beschreibt meinen Einstieg in die Welt der Videografie mit Canon DSLR Kameras, wobei es keinen festen Termine für weitere Teile gibt. Lerne ich dazu / entdecke ich was interessantes, kommt auch ein weiterer Teil. Alle Teile dieser Serie findest du HIER
Mich interessierte vor allem, wie sich die Picture-Styles nicht nur für den Betrachter (also vom Bildlook her) unterscheiden, sondern ob der gegenüber dem Standart-Style vergrößerte Spielraum zur Nachbearbeitung auch irgendwie nachweisbar ist.
Zum Duell traten folgende Picture-Styles gegeneinander an :
Canon "Standard" Style, bereits in Firmware integriert
"Marvels Cine for Canon" Style, kostenlos -> Homepage
"Cinema Picture" Style, rund 8 Euro -> Homepage
Alle drei Styles liegen im Speicher einer Canon 6D und wurden nacheinander aktiviert. Die restlichen Einstellungen wurden dabei nicht verändert. Als Motiv wählte ich bewusst eine Szene aus, die zum einen sehr hell ist (Himmel), zum anderen auch sehr dunkele Stellen beinhaltet (Grill und Schatten beim Mercedes). Damit lassen sich die Tonwertgrenzen gut aufzeigen.
Specs :
Canon EOS 6D auf Stativ, Canon EF 16-35 f2.8L, Brennweite 21mm, Iso 100, Blende f4.5, Verschlusszeit 1/50 Sekunde, Weißabgleich Schatten. JPG in Qualität "L"
Mit Lightroom Objektivkorrektur angewendet, verkleinert und nachgeschärft, sonst keine Bearbeitung
Und das kam aus der Kamera raus :
Zusammenfassung : Soweit keine Überraschung zu sehen, der Style von Marvels bietet augenscheinlich die beste Basis für eine nachträgliche Bearbeitung am Rechner, der "Cinema Picture" Style bietet einen tollen Look out of the box ohne Nachbearbeitung.
Um die Fotos genauer bewerten zu können, habe ich in Lightroom die Schatten- und Lichterwarnung mal aktiviert, welches eine Analyse der Tonwerte an den beiden Enden ermöglicht.
Zusammenfassung : Sicherlich kann man auch Videos mit dem "Standard" Style machen, aber die Möglichkeiten in der Nachbearbeitung sind doch dann limitiert. Wer sich am Rechner so richtig austoben will, bekommt mit "Marvels Cine" die besten Vorraussetzungen.
Wirklich überrascht hat mich der "Cinema Style", bietet er doch schöne, satte Kontraste und Farben "out of the box", ordentlicher Headroom für die spätere Bearbeitung gibt es on top dazu.
Ich denke mal mit diesem kleinen Vergleich konnte die Arbeitsweise der unterschiedlichen Picture Styles gut dargestellt werden.
Da Fotos für ein Picture-Style nicht viel aussagen, gibt es zum Schluss noch ein kleines Video, welche die unterschiedlichen Styles vom Look her anschaulich macht (und mal ein Auge auf die Zeichnung/Details im Himmel werfen)